When the opportunity of retirement is soon, it is mixed with excitement and fear, hope and confusion. The words "I'm Done" are quickly followed by will I have enough income to meet my needs and wants? What do I do with my qualified accounts? What about tax strategies? What is the best time for me to start talking about Social Security? How and when do I apply for my Medicare?
A well thought out plan is needed to turn your dreams into reality. When it comes to your retirement, a professional that has been involved in retirement planning for over 30 years can help explain your best options for a successful retirement by providing information on life-impacting areas such as those listed on this page.
Jim has helped us for over 14 years but never as much as when my family and I needed him during the illness and death of my husband. He has not only been our financial advisor, but a friend and confidant and has been there every step of the way... Thank you so much!
We have found Jim to be sincere and honest which is so important to us. As we have gotten older, our desires and needs have changed, but all of the products Jim recommended to us have served us well. We are very happy with his services.
We met Jim after we'd retired a few years, and just asked him over for a friendly Estate Review... Jim showed us that unless we changed our spending and investments, in 12 years we would be completely out of funds. Jim spent many hours with us setting up a new financial plan, not only securing us the lifestyle we wanted, but covered our future plans.
When it suddenly hit me that retirement wasn't so far away, I called Jim for help. We went over all my finances and talked about the plans my wife and I had for retirement, our hopes to travel, to leave our children an inheritance, charitable giving, and even our health. Jim recommended a strategy that will give us a lifetime income and allow us to do most of what we hope to do. Thanks Jim!!!
I'm still hanging in there (89+). Thank you for the advice you gave me many years ago! Thank you!
I miss you and your advice with my finances. you helped me save and invest properly, so I'm able to enjoy retirement this long. Thank you again for that!
Thank you for being so patient with me and my questions.
I'm thankful for your help and sharing your family with me. My love.
Thank you, I appreciate you so much. I love you to pieces and I'm so thankful to have you in my life.
I appreciate your help and advice. I will be sure to tell my friends and family about "The Willis Agency". It is so nice to know there are still honest people in your business. Thanks again for all your help.
Thanks for caring, for praying with us and for showing your love and concern.
I first met Jim 12 years ago, during a critical time in my life when I needed a lot of advice on insurances and investments. Jim had all the answers and through all these years he has directed me and helped me make the right choices. I feel very secure and thankful that I found a truly honest agent and friend.
If you need help, just call Jim! He loves to help people and will do anything in his power to help you. He came right to our house to help us work out our finances. We just love him and I don't know what we'd do without him.
Thank you for your help. It is always a pleasure dealing with nice people as you both are.
Hello, I just want you and Candi to know how much I appreciate your monthly Newsletter… Your words of faith give me help in witnessing. I know God is my financial advisor. He is also my doctor. He is my everything. I pray about everything. And I am so blessed. Thank you.
Jim, I thank God for you and Candi!
Mr. James Willis is a true professional in all aspects. He has gone beyond the call of duty to help my whole family and we appreciate all he has done for us.
We have known and worked with Jim for so long, we feel he and Candi are part of the family. He's always there to help not just at safe time but he has always come running when we need him.
Congratulations on 25 years in business! You have not only been our financial advisor but also our friend. You always have a sweet spirit and a helpful voice at the other end of the phone. You and Candi have always been very special to us. We wish you many more successful years in business! m.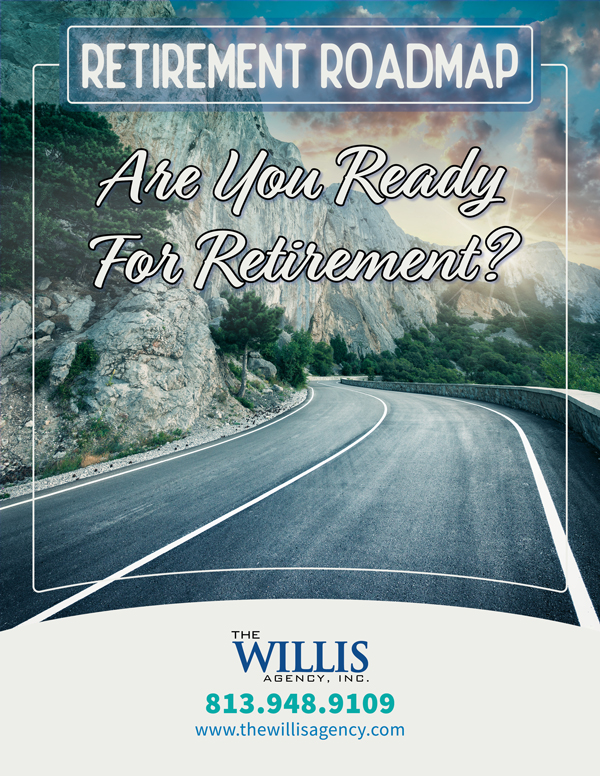 Find Your Way to Retirement
Download this free tool to help develop your retirement income strategy. This timeline will help determine the ages you may want to pay special attention to. If you're looking for some basic guidance, you can check out our resources page to learn the basics.
Job descriptions can be confusing, especially when you are searching for a professional to guide you through the many working parts of retirement. When you want financial advice it is generally pertaining to specific goals in your life. Perhaps you are looking for financial safety of your principal or needing pension replacement of guaranteed income for life* Considering downsizing, or early retirement?
Many people regard financial strategies as complex and confusing, and miss out on financial opportunities, or take unnecessary risks. For example, money with a Financial Advisor is not all guaranteed, it is at risk, whereas in retirement planning, your money is guaranteed and safe.
Perhaps The Willis Agency can become a trusted partner to help you move toward your goals and visions.



Our Simple 3-Step Process
Step 1:
Initial Phone Meeting
The purpose of this phone call is to start to understand your situation, needs, and goals.
Step 2:
Discovery Meeting
This is a deeper dive into what your desired outcomes are and what gives your life significance.
Step 3:
Game Plan Presented
Based on your provided information, several options will be outlined that best fit your desired outcomes.